"SANTA LOST IN CHINA"
Limited Edition Series of Bilingual Holiday Cards – US$24.99 for set of 10 cards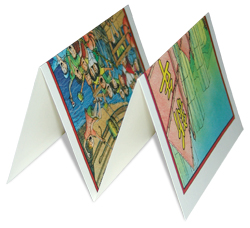 Each year, architect and Hong Kong resident artist Thomas Schmidt creates a limited edition of bilingual (English / Chinese) New Year Cards. A favorite of expats residing in Hong Kong, these unique cards make the perfect holiday greeting to send to both Chinese and Western friends and family. These dual-use cards bridge the gap between Christmas / Western New Year and Chinese Lunar New Year, which occurs roughly a month later depending upon the lunar calendar for that year.
A portion of the proceeds from the sale of these cards have and will continue to be donated to Habitat for Humanity.
ALL CARDS 150 mm x 420 mm; 4-color printing on quality paper stock; accordion-folded; sold with matching 110 mm x 157 mm envelopes in sets of 10.
ORDER FORM AT BOTTOM OF THIS PAGE
—————————————————————————–
NEW FOR 2017-2018: SANTA LOST IN CHANGBAISHAN — NOW AVAILABLE:

This year Santa finds himself flirting with North Korean border guards at Changbaishan's Heaven Lake in China's chilly Jilin province!
Hong Kong Orders: Please call 2557 3742 (HK$200 / set of 10 cards + envelopes)
International Orders: Please order by selecting "Changbaishan" from the drop down menu below and add to your shopping cart … don't forget to also check out our great music and books for the perfect gift!
Click on images below to see the entire "Santa Lost in China" series:
ORDER USING THE DROP-DOWN MENU BELOW: